Metzeler 2703700 Me888 Marathon Ultra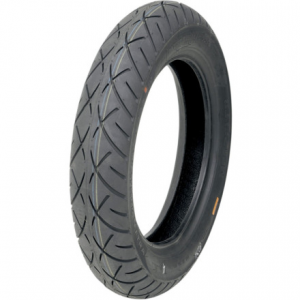 Metzeler ME888 Marathon Ultra Front Tire
High mileage tire for V-twin cruisers and heavy touring motorcycles. The ME 888 Marathon Ultra - also known as the "Triple Eight" - does not replace the established ME 880, it merely provides a supplement for riders who value high mileage. Ultra-high mileage. Outstanding tread life (up to 50% more mileage) Metzeler combined with performance and handling. Custom designed for touring bikes. New tread design with variable inclination grooved walls for improved wear regularity and thus increased mileage and performance consistency. Innovative tire technologies guarantee consistent handling throughout the tire's life. Excellent stability and responsive handling in both high as well as low speed riding. New contour for maximum contact patch. New profile featuring a wider and shorter footprint area for reduced wear providing increased mileage and stability. New X-Ply carcass profile and geometry prevents overheating and keeps structure and compound properties unaltered for performance consistency. Efficient water displacement. Tubeless. 0deg Steel Radial Innovative belt structure with a single ply of steel cords wrapped around a radial carcass at 0deg. Patented high performance technology by Metzeler for both front and rear tires. Steel features a higher stiffness than textile and this allows the reduction of the tire weight. Steel radial belt reduces the dynamic deformation of the tire under centrifugal forces giving the tire an excellent high-speed stability. Thanks to the more uniform heat distribution, mileage is increased and wear characteristics are more uniform. MAW "Metzeler Advanced Winding" is a patented system for optimum spacing between the cords of the 0deg steel belt. In certain sections of the tire, the steel cords are wound with different spacing depending on the performance requirements on that particular area of the tire. On both front and rear tire, the spacing is wider in the crown area for more elasticity and self-damping. For sections of the tire used for mid lean, there is increased stiffness to support fast cornering. On the shoulder area on the rear tire, the spacing is again wider for safe feedback and control when riding towards full lean.
$404.99
$322.99
(20% OFF)
Specifically designed to enhance the mileage together with superior wet performance.
Metzeler ME 888 MARATHON ULTRA is the best partner for long and safe travelling on cruiser, tourers and their custom versions.
The polymers of the compound are abrasion resistant, providing higher resistance to wear and hence high mileage.
Grip on wet.
Moreover, a relevant content of silica in the compound formulation ensures chemical grip on wet surfaces.