Alpinestars Jam Air Riding Shoes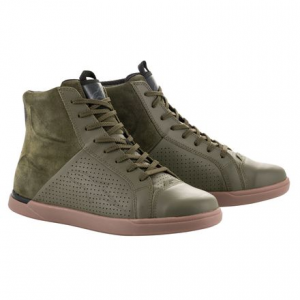 Alpinestars Jam Air Riding Shoes
One Goal. One Vision. Founded in 1963, Alpinestars has built a reputation of innovation and prestige. Now, fifty years later, Alpinestars is synonymous with quality, protection, technology and style. Alpinestars develops world-class technical apparel and footwear for all forms of motorcycling, auto racing and action sports as well as offering a large range of stylish casual clothing. Lightweight, street-styled upper combining leather on frontal and suede on back for optimized comfort, durability and look. Tongue in leather for enhanced comfort, durability and luxurious feel. Leather eyelet for more durability and look. Traditional lace closure system for easy, secure and comfortable fit. Elastic silicone lace pocket located on top tongue allows to take the extra laces into the pocket, that they don't get tangled up. Perforated leather on lateral, medial, rear and lower tongue are strategically positioned to improve airflow and ventilation. Dual-density ankle protectors are applied between the upper and padded lining to provide the strategic protection and flexibility in key areas. Embossed areas highlight the protection parts giving an aggressive and dynamic style to the riding shoe. Padding on tongue and heel area provides high levels of comfort and fit around the ankle and instep. Internal toe box and heel counter reinforcement is layered under the upper for more ergonomic design. Removable anatomic EVA foam footbed. Jam design rubber sole compound cup sole offers stability, grip, support and to provide a good walking comfort. Jam Air shoe is CE Certified to CE Standards (CE 89/686/EEC - CAT 2). Technology: CE Certification - Protection and protectors that are CE-certified have met the strict performance standards and requirements of the European Union.
$169.95
$125.95
(25% OFF)
Alpinestars Jam Air Shoes
Leather and suede street styling give the Alpinestars Jam Air Shoes a casual look, comfortable fit and durable build. Traditional laces keep the Jam Air Shoes secured on your feet with a special silicone lace pocket to keep the laces from getting snagged on your bike. Strategically positioned perforation keeps your feet ventilated during those summer rides.
Features:
Lightweight, street-styled upper combining leather on frontal and suede on back for optimized comfort, durability and look
Tongue in leather for enhanced comfort, durability and luxurious feel
Leather eyelet for more durability and look
Traditional lace closure system
Elastic silicone lace pocket located on top tongue allows the extra laces to tuck into the pocket
Perforated leather on lateral, medial, rear and lower tongue are strategically positioned to improve airflow and ventilation
Dual density ankles protector are applied between the upper and padded lining to provide the strategic protection and flexibility in key areas
Embossed areas highlight the protection parts giving an aggressive and dynamic style at the riding shoe
Padding on tongue and heel area provides high levels of comfort and fit around the ankle and instep
Internal toe box and heel counter reinforcement is layered under the upper for more ergonomic design
Removable anatomic EVA foam footbed
Rubber compound sole offers stability, grip and support