Scorpion EXO Transformer Jacket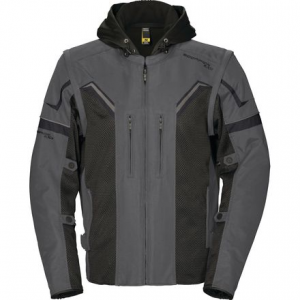 Scorpion EXO Transformer Jacket
The Transformer Jacket by Scorpion EXO can be worn multiple ways to match a variety of weather conditions. When temps get cold, wear the softshell hoodie under the mesh outer shell. When temps heat up, remove the hoody and tuck away the back panel for maximum airflow. You can even zip off the sleeves and transform the jacket into a vest or wear the hoody alone. All this plus the patent-pending backpack feature will transform your riding experience. 5-in-1 Integrated Backpack Jacket: 600D premium nylon shell with 100% polyester dobby mesh for airflow. 100% polyester, wear alone or zip-in windproof softshell hoodie. CE Level 1, form adaptable, Sas-Tec(R) flex armor at shoulders and elbows. Six pockets: Two chest pockets, two hand warmer pockets, two internal pockets. Forearm, bicep, and waist adjustability for optimal fit. YKK(R) zippers. NightViz(R) Reflective on shoulders and piping across back. Airflow: Large hole dobby mesh for maximum airflow. Tuck-away back panel for increased airflow. Backpack Features: Ergonomically designed to distribute weight evenly across the torso. Internal load-adjustment strap and waist straps tightly secure the load. 20 liter storage capacity. Waterproof compartment. Mesh sidewalls for maximum airflow. Configurations: Outer shell and hoodie for protection and warmth. Outer shell alone for protection and airflow. Hoodie alone for warmth or style. Vest alone to stay cool. Vest and hoodie for style. One-year warranty.
$274.95
$241.95
(12% OFF)
Scorpion Transformer Jacket
The Scorpion Transformer Jacket can combat any weather condition. When temperatures start to drop bundle up with the polyester windproof softshell hoodie that zips directly into a 600D premium nylon shell. During warmer months transform this jacket into a stylish vest by zipping off the sleeves. A tuck away panel on the back provides even more airflow with an extra storage pouch to keep the sleeves and jacket together.
Features:
600D premium nylon shell with 100% polyester dobby mesh for airflow
NightViz reflective on shoulders and piping across the back
Tuck away back panel for increased airflow
Forearm, bicep and waist adjustability to fit any rider
Ergonomically designed waterproof backpack distributes weight evenly
Waterproof compartment on lower back.
6 pockets total; 2 chest, 2 hand warmer, and 2 internal
YKK zippers
CE Level 1 form adaptable SAS-TEC flex armor at shoulders and elbows