The 2023 Ryvid Anthem Launch Edition. Slotted cutouts help cool the electronics within. (Ryvid/)
The electric motorcycle commuter category just grew by one. EV newcomer Ryvid is showing off its first offering, the $7,800 Ryvid Anthem Launch Edition, with preorders beginning Sunday, August 14, 2022, at 10 a.m. PST. Only 1,000 units of the Launch Edition will be produced.
Related: 2020 Zero Motorcycles SR/F Review MC Commute
Billed as a "first-of-its-kind, customizable motorcycle," the Anthem will feature an Ergo-Easy ride height-adjustable seat, allowing the seat to electrically morph in height from 30 inches up to 34 inches. This will be standard on the Launch Edition, while later models will use manual adjustments via compressed air.
The 2023 Ryvid Anthem Launch Edition, from the left side. Note the swingarm-mounted motor with belt drive. (Ryvid/)
The rest of the bike follows more traditional best practices of design and configuration. The engine is mounted to the swingarm, like a scooter. The proprietary planar frame is made from 316 stainless steel and is said to be inspired by aerospace design, a nod to founder and CEO Dong Tran's aerospace design background. A planar frame means all the members, pieces, or components of the frame are the same plane, or line. Think along the lines of XB-era Buells. (That's not a slight, by the way.)
A 4-inch range of seat heights mean almost all riders are welcome. Will it be adjustable while riding? Stay tuned. (Ryvid/)
Power comes via a 72-volt air-cooled brushless DC motor running off a 4.3 kWh lithium-ion battery. Rather than the hub-mounted motor of the Sondors Metacycle, the Anthem mates its swingarm-mounted motor to a belt drive.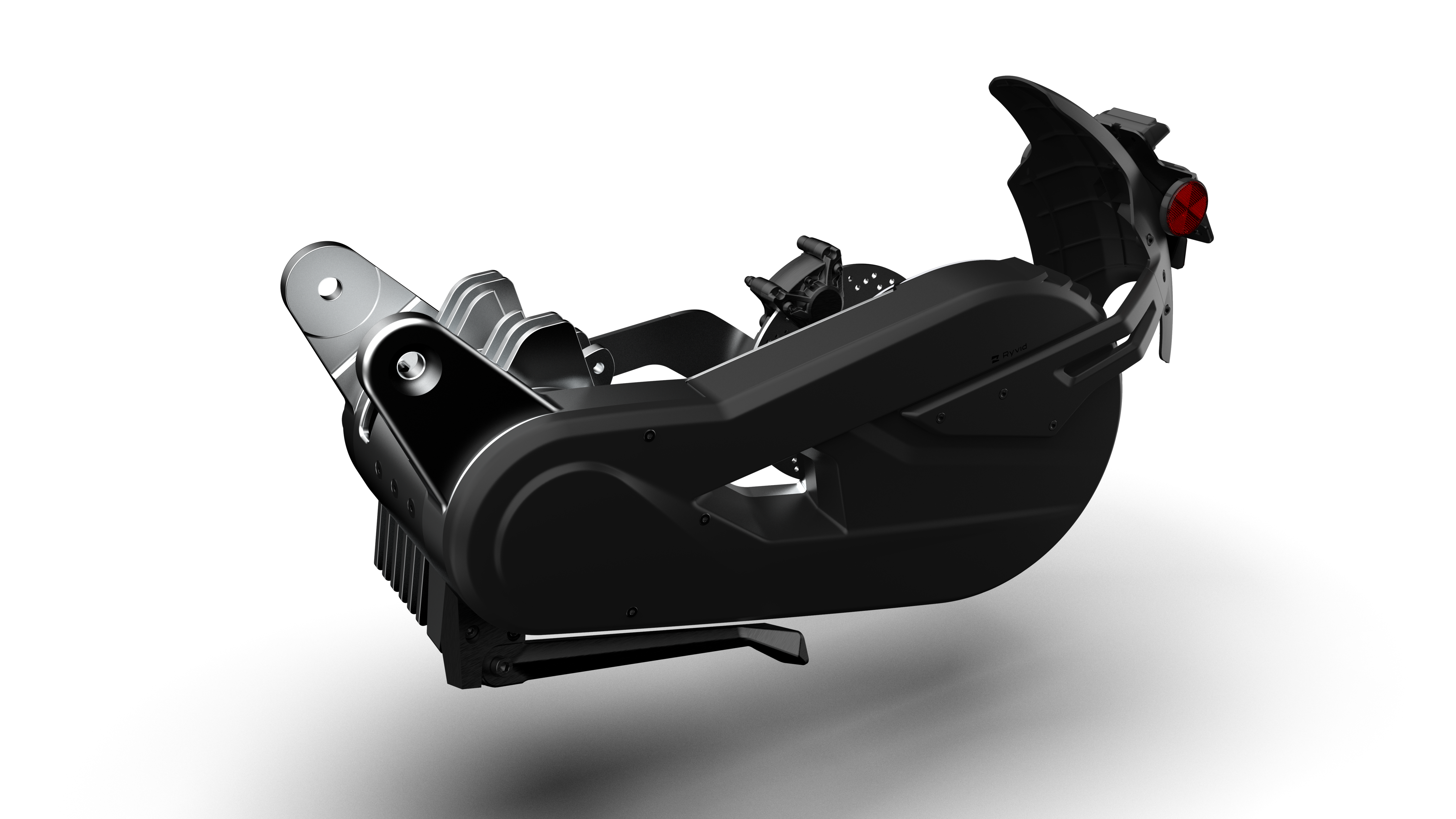 The fully enclosed motor and belt drive will help keep things as maintenance-free as possible. (Ryvid/)
Peak wheel torque is a claimed 250 lb.-ft., or 338 Nm. Charging time is said to be three hours on 220V and six hours on 110V. Claimed range is 75-plus miles, or around 50 miles in Sport mode. Top speed comes at 75-plus mph.
A 4.9-inch TFT display keeps the rider informed. (Ryvid/)
A 4.9-inch TFT sums up what's happening on the road, while a 310mm front disc and four-caliper piston pairs with a 240mm rear disc and two-piston caliper to stop things. The bike forgoes a foot pedal brake; the right lever is the front brake, the left the rear. The Anthem weighs in at 240 pounds.
Related: 2020 Harley-Davidson LiveWire Review MC Commute
The Anthem fits in nicely in the growing class of commuter electric bikes, including the Sondors Metacycle, Super73 C1X, Kollter ES1 Pro, and the UBCO ADV. Of these, the UBCO and Kollter are in fact currently available for purchase. According to Sondors' Facebook page, the June Metacycle delivery date has only been partially fulfilled, with lively debate among those still waiting. The 2024 C1X is slated to arrive in late 2023.
The stainless steel planar frame, said to be inspired by airplanes. Like a Saab, maybe? (Ryvid/)
Assuming production and delivery go according to plan, customers will receive their Anthem in summer of 2023. Story to be updated.
The Ryvid Anthem's removable battery pack. (Ryvid/)
Ryvid Anthem Launch Edition Technical Specifications and Price
| | |
| --- | --- |
| PRICE | $7,800 |
| ENGINE | 72V air-cooled brushless DC, IP 67, 6,500 rpm w/ flux weakening |
| BATTERY | 4.3 kWh lithium-ion, 75+ mile range, 50 miles in Sport mode |
| TRANSMISSION/FINAL DRIVE | Belt-drive, 117T/25T (standard), 83T/23T (optional) |
| CLAIMED HORSEPOWER | 10 hp / 18 hp peak |
| CLAIMED TORQUE | 10.5 lb.-ft. (14.3 Nm) / 53 lb.-ft. (72 Nm) peak |
| FRAME | 316 stainless steel planar frame |
| FRONT SUSPENSION | Inverted cartridge style, compression damping adjustable; 3.9 in. travel |
| REAR SUSPENSION | Compression damping and rebound adjustable; 1.8 in. travel |
| FRONT BRAKE | 4-piston caliper, 310mm disc |
| REAR BRAKE | 2-piston caliper, 240mm disc |
| WHEELS, FRONT/REAR | 17 x 3.5 in. / 17 x 4.5 in. |
| TIRES, FRONT/REAR | N/A |
| RAKE/TRAIL | 26.0°/6.0 in. |
| WHEELBASE | 52.0 in. |
| SEAT HEIGHT | 30.0–34.0 in. (adjustable) |
| CLAIMED WEIGHT | 240 lb. / 175 lb. w/o battery |
| WARRANTY | Limited lifetime on frame, 1-year standard motorcycle warranty, 2-year power pack (battery) |
| AVAILABLE | Summer 2023 |
| CONTACT | ryvid.com |