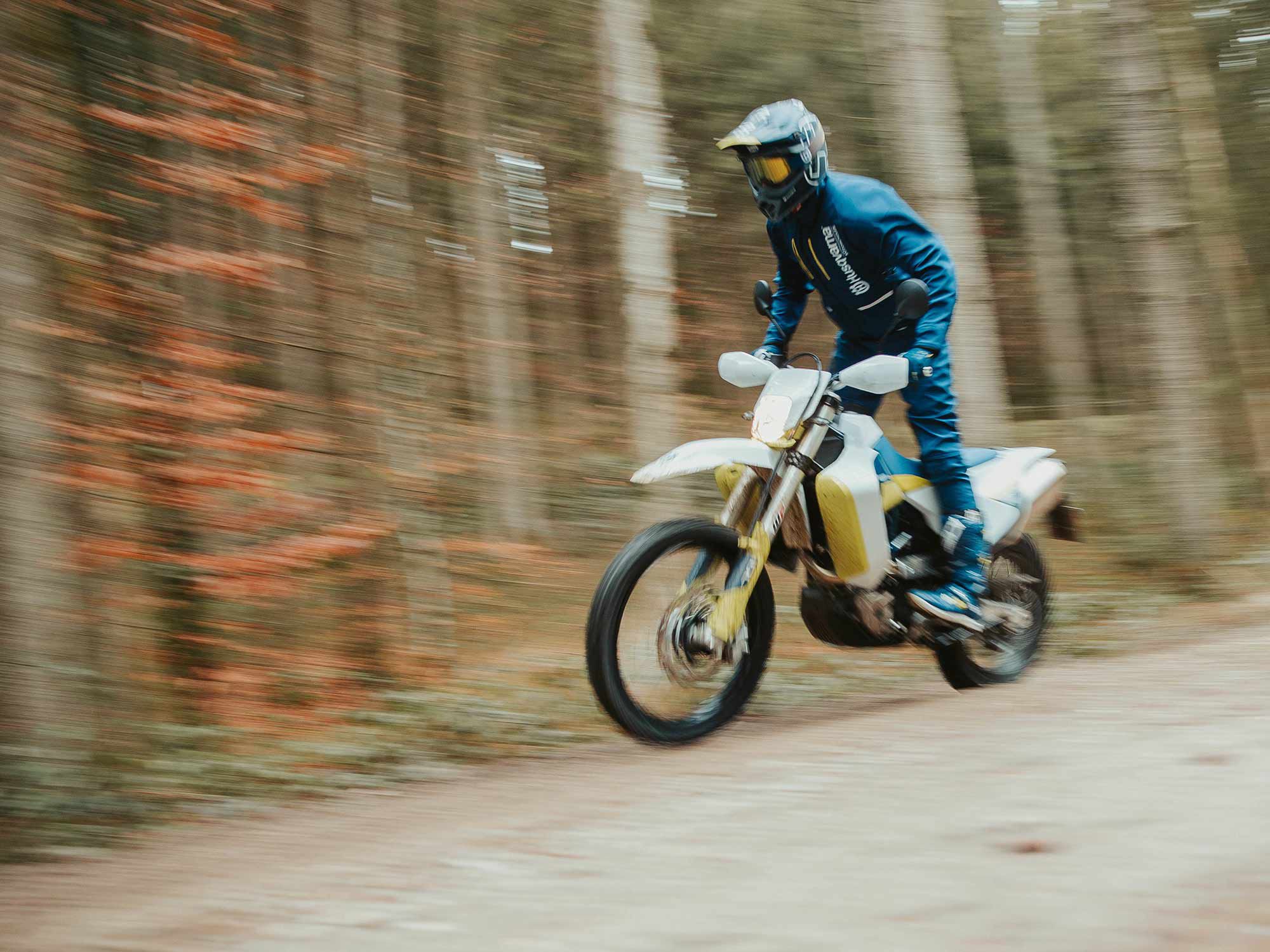 Make sure to get a detailed bike history. You want to know just how much road or dirt this machine has seen. (Husqvarna/)
Last year we had the chance to get some tips on how to buy a motorcycle online from Paige Bouma, executive vice president of Cycle Trader. Looking back, it's clear we missed some important elements of the whole process, especially for buyers who are really throwing caution to the wind and buying directly from a private seller. To rectify that oversight, we're back with a few more tips on how to buy a motorcycle online.
Set Your Limits
Before you even start to browse new motorcycles or used motorcycles, we recommend setting some parameters for yourself by answering some questions. What's the oldest model year you'd be willing to purchase? What amount of previous mileage are you willing to live with? How many previous owners are good with you? How broad is your search area? What's your delivery budget, if you need to front the entire shipping cost? How detailed do you need the ride history to be? How comfortable are you wrenching on a bike that doesn't live up to expectations?
If you can identify some firm limits on these fronts, you'll save yourself search time because you'll be better able to weed out the duds.
Related: Tips On Buying A Used Bike
Some good lighting and staging can make a dud look like a gem, so be sure to tread lightly if you're buying from a private seller online. (Ducati/)
Get a Clear Picture
Once you find a bike that looks promising, reach out to the seller and find out if they'd be willing to work through a long-distance transaction. If you get past this stage, ask plenty of questions about the motorcycle. You'll want to get some insight into the bike's history at this point, so find out things like who the primary rider was, if anyone else rode the bike, the type of riding they did on the bike, if there's a documented service history, how the bike was stored in the off-season, and other topics like that. The answers to questions like these, even if the answer is "I don't know," can reveal a lot about what a street bike has been through and how much life it has left.
If you get past this stage, set up a video call with the seller and have them give you a closer look at the bike in real time. The point here is to confirm that the bike is in suitable shape and to give you the chance to spot any potential red flags that might not have come up during the conversation. Keep an eye out for dings, scratches, aftermarket parts, or other modifications, and be sure to ask about all of these if they come up.
Consider Going the Extra Mile
It's also wise to consider reaching out to a mechanic in the seller's local area to see if they'd be willing to give the bike a run-through. If the seller is motivated and willing to work through a long-distance arrangement, this shouldn't be a huge problem, especially if you offer to pay the cost of the assessment.
You might also try punching the seller's name into social media and taking a peek. This is clearly not a necessary step, but it can be useful if you have doubts about the person you're dealing with.
Related: How to Identify & Avoid Online Motorcycle Buying & Selling Scams
Follow our tips and you'll avoid a lot of pitfalls when buying a motorcycle online. (Kevin Wing/)
Pull the Trigger
If everything seems good and you're ready to get the deal done, seriously consider setting up an escrow account with the seller. There are lots of online options available, and it will allow you as the buyer to feel confident about where you're sending the money. It also gives the seller peace of mind, in that they'll be notified once the money is deposited, and they'll know that it's time to ship or get off the pot.
You'll also want to have your delivery plan squared away by choosing a reputable company to handle the transport of your bike. You'll likely have to cover these costs, but ask if the seller would be willing to share some of that, even if it's just knocking a few bucks off the asking price. The worst they can say is no.
Once it Arrives
If you're already well-versed in motorcycle mechanics, go ahead and do an inspection yourself, but it's probably wise to get the bike into a shop for a look-through and tune-up. The most important thing is to know that the machine is sound and safe before you head out on the road.