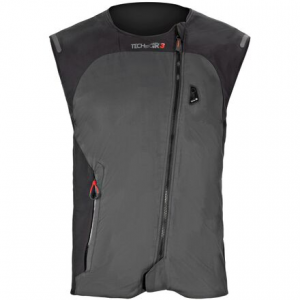 Alpinestars Stella Tech-Air 3 Airbag System
Alpinestars Stella Tech-AirA(R) 3 Airbag System is an 'over' the jacket solution for commuters and younger riders and offers effective upper body protection by covering the rider's full chest and full back, and is equipped with an ergonomically optimized women's tailored female fit with a tapered cut for enhanced comfort. Featuring a water-resistant main chassis and a waterproof ECU and electronics, this slim, self-contained system can also be worn under a motorcycle jacket, including any Alpinestars' compatible jacket, any leather or textile jacket, providing that the jacket has sufficient space to accommodate the inflation of the airbag. Alpinestars' crash detection triggering algorithm has been developed and refined with millions of kilometers of riding data and thousands of crashes, allowing the system to accurately assess when to deploy the airbag ahead of an impact or other dangerous situation like a lowside or highside crash. In the event that Tech-AirA(R) 3 detects the start of a crash, the system will activate the protective airbag in milliseconds, depending on the size of the airbag. Key Features: A fully self-contained system, Tech-AirA(R) 3 does not require any external connections or sensors on the motorcycle for the system to operate. Tech-AirA(R) 3 is a fully autonomous active airbag system. Tech-AirA(R) 3 incorporates six integrated sensors (three accelerometers, three gyroscopes or one triaxial gyroscope and one triaxial accelerometer) to provide the best crash monitoring performance in a variety of dynamic riding situations. The Tech-AirA(R) 3 Airbag System activates automatically via the magnetic zip closure. ECU and electronics are located in a waterproof housing for proven wet weather performance. Packable design means the system can be stored in a backpack or under a bike's seat when not in use. Equipped with a diagonal zipper to provide complete front chest coverage while also concealing the inner airbag. The magnetic zip closure has been designed for ease of use and for providing a secure closure system to the airbag garment. An LED display on the front chest continously indicates the airbag's operational status. An internal magnetic button facilitates easy positioning of the airbag across the chest when riding. Strategically positioned stretch panels on both sides of the abdomen to accommodate the expansion of the airbag in the event of a crash. Integrated back protector pocket on the back to house additional passive back protection (protector sold separately). Tech-AirA(R) 3 incorporates Alpinestars' Pro 2nd Generation compact Electronic Control Unit (ECU) embedded in the upper back of the Tech-AirA(R) 3 vest. Tech-AirA(R) 3 uses the Tech-AirA(R) 5 street algorithm which provides active protection in street riding scenarios and a variety of riding conditions, even when stopped. Upgradable system firmware, accessible via the Tech-AirA(R) App. Bluetooth low energy (BLE 5.0) connectivity with the Tech-AirA(R) App shows the system's status, the battery status and riding data. Tech-AirA(R) 3 uses an integrated, certified lithium-ion battery, with a battery life of 40 hours and a recharge time of approximately four hours. The LED display also incorporates a haptic alert, which vibrates to confirm the system is armed and alerts the rider when the battery is running low. The argon gas canister that provides the inflation gas for the airbag's deployment is housed in an ergonomic case on the right side of the lower back of the rider. The canister housing, electronic wiring, and the airbag are easily removable. The canister can be replaced by ANY Alpinestars dealer. The vest is washable. Chassis is constructed with a water-resistant treatment for effective all-weather performance. Protection: The Tech-
If you're a city commuter or street rider looking for an added layer of protection, look no further than the Tech-Air 3 System from Alpinestars. It's the lightest autonomous airbag system offered by Alpinestars and it can be worn under or over your jacket, so you can ride comfortably. The cutting edge Tech-Air System uses the Tech-Air 5 Street crash detection algorithm that leverages AI to accurately monitor when to deploy the airbag in the event of a crash. The Tech-Air 3 incorporates six integrated sensors to provide the best crash monitoring performance and active airbag protection in a variety of dynamic street riding scenarios, even when stopped.
The Tech-Air 3 System accurately assesses when to deploy the airbag ahead of an impact or other dangerous situation like a lowside or a highside crash. The system with activate the protective airbag in milliseconds depending on the size of the airbag. Once inflated, the airbag provides full upper body protection, keeping you safe by uniquely covering your full chest and back. The Tech-Air 3 features an integrated back protector pocket so you can insert a back protector (sold separately) for an additional layer of safety. An LED display on the front chest indicates the airbag's operational status and incorporates a haptic alert which vibrates to confirm the system is armed and alerts you when the battery is running low. Bluetooth connectivity to a Tech-Air App allows you to monitor the Tech-Air 3's operational status, battery status and detailed map of your ride.
Features:
Fully autonomous active airbag system
Chassis is constructed with a water resistant treatment for effective all-weather performance
Incorporates 6 integrated sensors (3 accelerometers, 3 gyroscopes or 1 triaxial gyroscope and 1 triaxial accelerometer) to provide the best crash monitoring performance in a variety of dynamic riding situations
Activates automatically via the magnetic zip closure
ECU and electronics are located in a waterproof housing for proven wet weather performance
Equipped with a diagonal zipper to provide complete front chest coverage while also concealing the inner airbag.
LED display on the front chest continuously indicates the airbag's operational status
Internal magnetic button facilitates easy positioning of the airbag across the chest when riding
Strategically positioned stretch panels on both sides of the abdomen to accommodate the expansion of the airbag in the event of a crash
Perforated back zone for improved breathability, with internal air channels for enhanced airflow
Integrated back protector pocket (back protector sold separately)
Incorporates Alpinestars' Pro 2nd Generation compact Electronic Control Unit (ECU) embedded in the upper back of the vest
Uses the Tech-Air 5 street algorithm which provides active protection in street riding scenarios and a variety of riding conditions, even when stopped
Upgradable system firmware, accessible via the Tech-Air App
Bluetooth low energy (BLE 5.0) connectivity with the Tech-Air App shows the system's status, the battery status and riding data
Integrated, certified lithium ion battery, with a battery life of 40 hours and a recharge time of approximately 4 hours
LED display incorporates a haptic alert, which vibrates to confirm the system is armed and alerts the rider when the battery is running low
Argon gas canister that provides the inflation gas for the airbag's deployment is housed in an ergonomic case on the right side of the lower back of the rider
Canister housing, electronic wiring and airbag are easily removable
Packable design for easy storage when not in use
Washable