We explore the ancient city of Rome aboard Vespa's 2023 GTS 300 gasoline-powered scooter. (The Piaggio Group/)
Vespa's new-for-2023 GTS 300 is an overhauled version of the company's classic long-serving four-stroke gasoline-powered scooter. We were lucky enough to get a Piaggio Group invitation to ride this fundamental scooter around Rome, one of the founding cities of Western civilization.
Four Vespas make up the US model line: the GTS, Super, Super Sport, and Super Tech. We test rode the $8,099 Super Sport. Above this model is the Super Tech, which rings at just under $9,000. It comes with a 4.3-inch color TFT screen as opposed to a mixed analog and digital dash. It also comes with a carpeted storage bunk with an LED light inside. We would definitely like the carpeted storage bunk with the LED light. That would keep our goodies from getting scratched. The color TFT, on the other hand, we could live without.
We value the look of this Vespa GTS, especially in this Hot Wheels orange colorway—it's a real looker. The quality of the paint is fairly good, but there is quite a bit of orange peel on the surface of the body, and it's really apparent in this bright orange paint. Nowadays many two- and four-wheeled vehicles have an orange peel effect in the paint. So we're not going to knock Vespa, but still, considering its cost we desire a finer paint job. Even still, it remains a head-turner. It's worth nothing that Vespa began manufacturing scooters in 1945 out of scrap parts from an aircraft. That's why Vespa has this old-school aerospace-type look.
As the nomenclature insinuates, the GTS 300 is a 300cc class, well 278cc to be exact, built in northern Italy for the North American market. Beginning with the body panels, its signature centerline "tie bow" is now flatter and less rounded on the edges, as is the front fender. This styling trend (larger, flatter surfaces) is popular and follows the theme of other Piaggio Group products, including Aprilia's sportbike offerings (read/watch the 2021 Aprilia RSV4 MC Commute Review and 2021 Aprilia RSV4 Factory Review articles). It includes LED headlights, turn signals, taillights that feature an oversized shape similar to a 1950s-era automobile. To match that wider forward body panel, the rear fairings are also flatter and longer.
All of these Vespa scooters are proximity-based key-fob start. We're not typically keyless-fob-style users, but for a scooter application it functions adequately. Other neat modifications are this wider handlebar (about 0.8 inch) and the tweaked front and rear suspension.
The great thing about scooters is the ability to easily bring your goodies with you. This particular Vespa GTS has electronic locks which make it easy to store and access accoutrement, like our trusty Ogio 450 fanny pack. The fuel cap is adjacent to the underseat storage. The GTS runs on unleaded 87-octane fuel with a tank capacity of 2.25 gallons. Electronic fuel injection and electric start make for an easy riding experience.
In addition to the underseat storage compartment another storage compartment sits inside the footwell area. It blends in seamlessly to the forward fairing. It would be nice if the interior was padded, so your stuff won't get scratched. Inside, a USB power port facilitates device charging. Right now, I do like that but this interior area should be padded. Still, neat that we have copious amounts of storage on this Vespa GTS.
The Vespa GTS is powered by a 278cc single-cylinder water-cooled fuel-injected four-stroke gasoline engine. This scooter benefits from the twist-and-go simplicity of a CVT automatic transmission. The CVT takes the guesswork out of riding. All the rider has to do is twist the right grip. It puts power back to a 12-inch back wheel shod with Michelin City Grip 2 tire.
This single is good for right around 24 hp, says Vespa, with a top speed of right around 77 mph. We didn't achieve this top speed, but it's nice to know this vehicle is freeway capable in the United States.
And it's got decent get-up-and-go for getting around town and for getting the jump on automobiles at a stoplight. At idle, we feel some engine vibration through the controls. It's not off-putting, but you definitely feel the vibration through the controls and the seat. When we start rolling, the vibration just goes away and it's replaced by real smooth ride quality.
Thing we like about these scooters is how easy they are to operate. You don't have to be someone with a lot of motorcycle or powersport experience to operate this vehicle.
Now instead of the traditional clutch lever, this scooter employs a brake lever where the clutch lever would be. This brake lever operates the rear brake hydraulically. This particular GTS has hydraulic disc brakes front and rear. For 2023 Vespa overhauled the calipers and the master cylinder of both brakes for better response when pressing on either lever. And the stopping distance of the Super Sport is a few feet shorter when traveling at speed. As usual, this GTS has always-on, full-time ABS. The front and the rear suspension were tweaked to complement the braking improvements to help this vehicle to stop more quickly. And wow, this Vespa 300 GTS sure does ride nicely even over centuries-old stone streets. We like the response of these brakes. They have a nice, accurate feel and response. Having ABS fully mitigates instability during braking. So you actuate the brakes as hard as you want and never have to worry about either tire skidding.
Other neat modifications include the new switch gear—though, it's a little bit plastic-y for our taste. Still it has a decent tactile feel; But for a scooter that costs $8,100, fit and finish should be better. This analog and digital dash is easy to read. ASR is Vespa's form of traction control; it's a wheel-speed-based traction control system. It's always on, but you can manually disable it.
A multi-wheel control function manipulates the various settings inside the display. We have average fuel consumption, dual tripmeters, and vehicle range data. The rearview mirrors perform well. They offer an adequate view of what's going on behind. They shake a little bit but not overly so.
This scooter rolls on 12-inch wheels and weighs right around 347 pounds, which is kind of a lot but when you're riding the GTS it feels much lighter. For '23, Vespa has altered the ergonomics—the shape of the seat, the position of the floorboard area—and it's a very accommodating scooter to ride for a 6-foot-tall and 198-pound rider.
Vespa is trying to elevate its technology game. So in the future you're going to be able to pair your phone to it via Bluetooth. Realistically however, if you pair your phone via Bluetooth to read text messages and to see what music you're playing, this dash display is so small, and you have to look down so low because it's not in field of view that having this functionality is a moot point. Still, it's nice that Vespa is trying to catch up with its competition and offer some type of Bluetooth connectivity. Vespa will also be offering an app so you can monitor your maintenance intervals, monitor the duration of your rides, and just give the owner more functional usability when they're away from their bike.
The neat thing about riding a scooter in a densely populated urban environment like Rome is that these things are highly maneuverable and easy to get in and out of traffic. The footprint of this vehicle is small so it's easy to park. This particular Vespa GTS benefits from a kickstand and centerstand. So you can use a kickstand like you would a normal motorcycle, or you can elevate the rear wheel with a centerstand.
It's worth noting that, oddly enough, this Vespa GTS doesn't come equipped with a parking brake. So if you want to prevent this vehicle from rolling forward or backward, you want to put it on its centerstand. Thankfully, despite its 347-pound curb weight, it is very easy to lift on the stand.
Like all Vespa scooters, this GTS comes with a two-year, unlimited-mileage warranty. The first maintenance is designated right around the 600-mile mark. After that, this product goes 10,000 kilometers (6,214 miles) between maintenance and oil changes. Vespa offers extended warranties and extended maintenance contracts so you can get warranty and maintenance service on this scooter for up to four years.
What better way to get around the city than this 278cc GTS scooter from Vespa? We really like the styling. It pays homage to where Vespa has been and where it's going in the modern era. We value the wider front fender and forward fairing. Of course, LED lighting is a must in the modern era so that's a nice upgrade too. We also appreciate the copious storage, though the underseat storage gets toasty. We like the twist-and-go simplicity of the CVT automatic transmission. All in all, it's a very nice vehicle for urban use, which brings us to the price.
Realistically, for $8,100 you can buy a new streetbike, which offers a lot more capability and versatility than this GTS Super Sport. Still, if you're looking for the twist-and-go simplicity of a scooter with the signature Vespa styling, signature Vespa character, and history that this brand has, then maybe this $8,100 scooter will be right for you. But for our money, it is too pricey.
Gearbox
Helmet: Arai Signet-X
Jacket: Rev'It Blackwater
Gloves: Rev'It Kinetic
Pant: Rev'It Maple 2 Ladies SK
Boots: TCX Dartmouth WP
2023 Vespa GTS 300 Technical Specifications and Price
| Price: | $8,099 (as tested) |
| --- | --- |
| Engine: | 278cc, SOHC, liquid-cooled single-cylinder; 3-valve |
| Bore x Stroke: | 75.0mm x 63.0mm |
| Transmission/Final Drive: | Continuously variable transmission w/ enclosed belt |
| Frame: | Steel |
| Front Suspension: | Single-sided link arm w/ coil spring and shock absorber; TBD travel |
| Rear Suspension: | Dual rear shock absorbers, adjustable for preload; TBD travel |
| Front Brake: | Nissin caliper, 220mm disc w/ ABS |
| Rear Brake: | ByBre caliper, 220mm disc w/ ABS |
| Tires: | Michelin City Grip 2; 110/70-12 / 130/70-12 |
| Rake/Trail: | TBD |
| Wheelbase: | 54.1 in. |
| Seat Height: | 31.1 in. |
| Fuel Capacity: | 2.2 gal. |
| Claimed Weight: | 347 lb. |
| Available: | December 2022 |
| Warranty: | 24 months |
| Contact: | vespa.com |
Gasoline-powered scooters, like Vespa's GTS 300, are ideal urban transportation solutions. (Adam Waheed/)
The 278cc single-cylinder GTS 300 has plenty of pep to get you in or out of town, with a top speed of 77 mph. (The Piaggio Group/)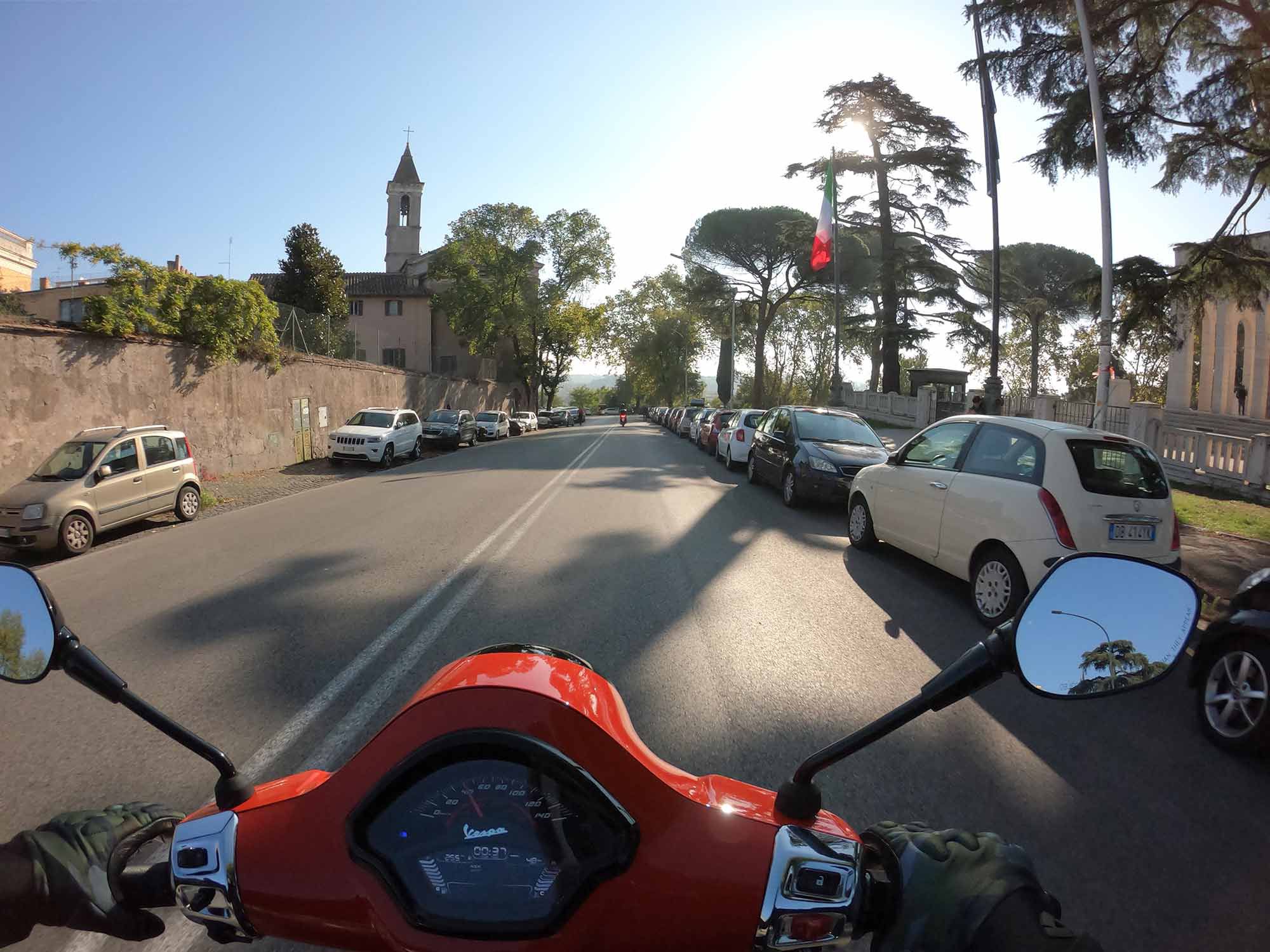 With their friendly-riding dynamic (no shifting), scooters are a great way to see and smell the sights and sounds of town. (The Piaggio Group/)
The ergonomics and riding position is well suited to a variety of rider sizes, including our 6-foot tester. (The Piaggio Group/)
A mixed analog and digital dash keeps tabs on the GTS 300. A color TFT display is available on the up-spec Super Tech model. (Adam Waheed/)
With copious storage (for a two-wheeled vehicle), the GTS 300 is easy to use as a daily-driver-type vehicle. (Adam Waheed/)
We value the updated switch gear, but for its $8,099, the GTS 300 Super Sport could offer improved fit and finish. (Adam Waheed/)
Aesthetically, Vespa hasn't strayed too far from the original. We like its signature 1940s aerospace lines that only it offers. (Adam Waheed/)