Flat Out Friday 2023 Race Report
Safety first. But entertainment is a close second. (Cathy Drexler/)
What's it like racing on concrete covered in Dr Pepper syrup? Ask Andy Pickett, five (possibly six)-time Flat Out Friday competitor.
"It's predictable but sometimes not. Your front end washes out, sometimes it's the rear. Confidence gets you around the track. But if not, people love crashes."
Beginning in 2014 in Milwaukee's now-demolished Bradley Center, Flat Out Friday has been lightly endangering life and limb ever since, minus a year or two during COVID. Whether it's the two-stroke fumes or beer, it's an intoxicating spectacle.
AA-Pro, Open Amateur, and Women's Amateur classes are serious stuff, but other classes exist to cause lighthearted mayhem and positive anarchy. The Goofball class mandates a customized bike and costume, while the Boonie class features only pull-start entrants.
Best of all, there's a Peewee class for 4- to 8-year-olds and a 65/85 class for 7- to 11-year-olds on 65cc bikes, with 9- to 15-year-olds on 85cc bikes. Is there anything better than watching little kids learning to race? Likely not.
It's a healthy way to cope with Midwestern winters. Fight crazy with crazy, they say. And before checking out Mama Tried's shiny, very stationary motorcycles, it's fun to watch moving ones.
Shane Westphal, Terry Vestal, and Adam Holmes light up the start of their Hooligans class race. (Cathy Drexler/)
Justine Marsh applies power to sticky pavement in the Women's class race. (Cathy Drexler/)
When to stop? Just go until you see checkers. (Cathy Drexler/)
An unidentified Borat-inspired racer pull-starts his Boonie class bike, with Chicken Fried Rick looking on. (Cathy Drexler/)
Brian Hopper pulls ahead with Andy Pickett in close pursuit in the Open Amateur class. (Cathy Drexler/)
Charlie Wick balances glory and danger aboard his three-wheeler in the 65/85 class. (Cathy Drexler/)
Peewee class competitors take a bow before the green flag flies. (Kevin McIntosh/)
Gun it and run it: A Peewee competitor looks ahead to possible glory. (Cathy Drexler/)
Next year's racers? Young spectators making plans. (Cathy Drexler/)
Nicholas Henderson and Daniel Bromley get low and fast in the AA Pro class. (Cathy Drexler/)
Can't hide that smile: Jake Drummond negotiates the Open Amateur class race. (Cathy Drexler/)
Possibly Megan Funk and Glenn Scherr put things sideways in the Open Amateur race. (Cathy Drexler/)
The youth movement takes shape between races. (Cathy Drexler/)
Ethan Rosine and Nick Johnson congratulate each other after the AA Pro race. (Cathy Drexler/)
Apologies, we don't know who this is. But that race-face, though. (Cathy Drexler/)
Care-ful! Start of the Boonie class, most likely. (Cathy Drexler/)
Steel shoes on the carpet: AA Pro racing in full effect. (Cathy Drexler/)
As they say in Wisconsin: Winning isn't everything. It's the only thing. (Cathy Drexler/)
Peewee class racers get the checkered treatment. (Kevin McIntosh/)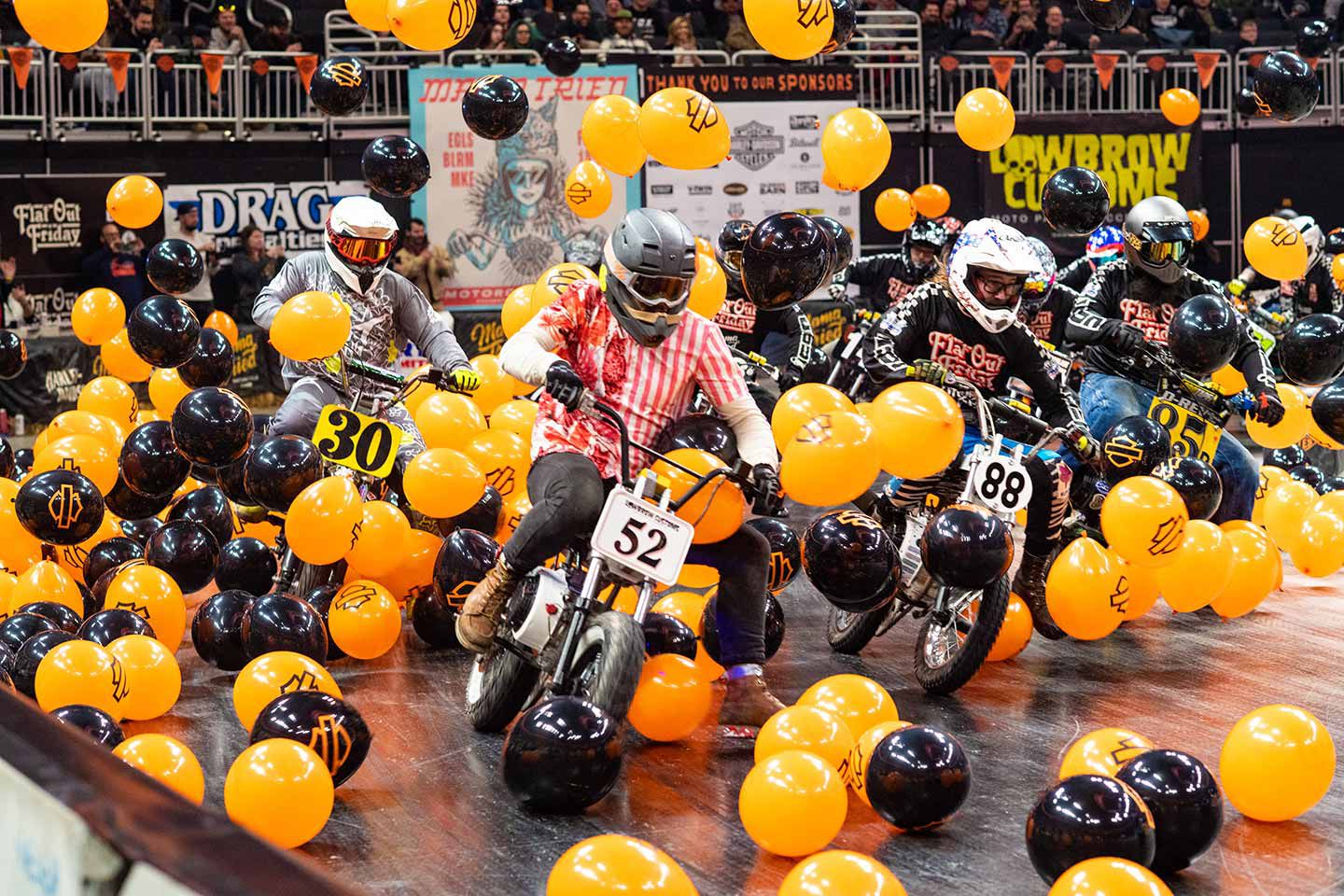 The toughest obstacle in motorsports: balloons on the track. (Cathy Drexler/)
The spirit of winning, as personified by a Dale Earnhardt–inspired racer. (Cathy Drexler/)