You'd recognize it with your eyes closed: the loping potato-potato idle of the 2023 Harley-Davidson Street Glide Special Anniversary touring-style cruiser. It's an exhaust tune that echoes virtually every hog that has hailed from Milwaukee for well over a century—if this audio daily double clue doesn't link this latest Harley with its past, nothing will. On the occasion of the brand's 120th anniversary, the $30,899 Street Glide Special is a commemorative edition limited to 1,600 units alongside seven other Anniversary models, including the Fat Boy 114 ($21,699), Heritage Classic ($22,699), Road Glide Special ($30,899), Ultra Limited ($32,799), and CVO Road Glide Limited, which rings in at a steep $51,999 thanks to its unusually elaborate, eagle-themed paint scheme.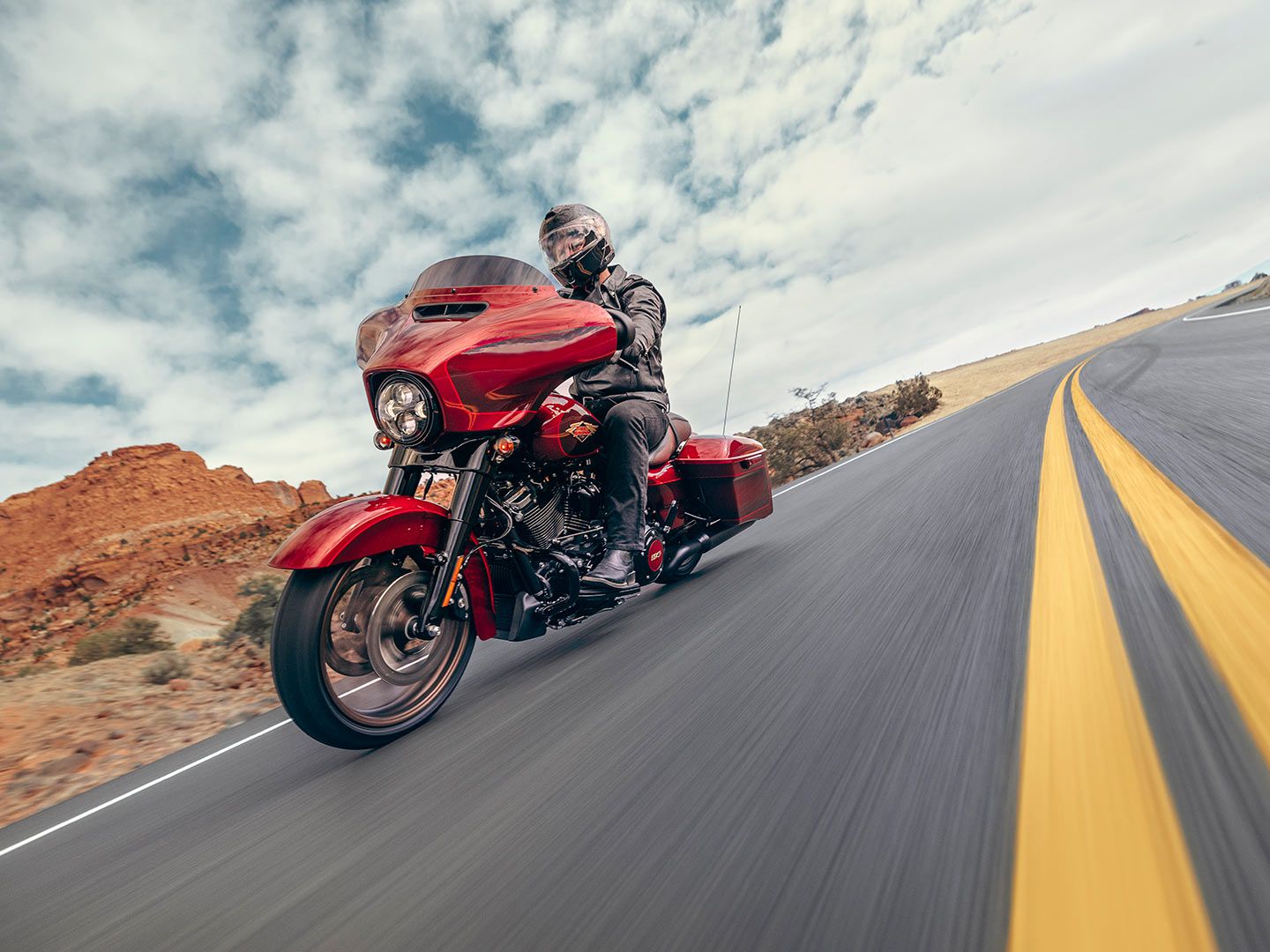 The Street Glide Special Anniversary's maximum lean angles of 32 degrees right and 31 degrees left are modest, but sufficient for most roads traveled by big baggers like the Street Glide Special. (Harley-Davidson/)
What does nearly 31 large get you? For starters, the FLHXSANV (Harley-speak for Street Glide Special Anniversary) receives a unique Heirloom Red paint scheme that adds $2,900 to the non-limited model's $27,999 MSRP. Straddle the generously proportioned saddle and you'll find the Special is substantially decked out with a smattering of switch gear revealing its copious features, among them cruise control and audio controls for the Boom! Box GTS audio system. Tucked below four analog gauges is a 5.25-inch touchscreen that can be operated with gloves, managing features like GPS and stereo controls.
Is there a more iconic image than a Harley-Davidson against the American West? (Harley-Davidson/)
The Street Glide Special has a heavy visual presence. But you won't comprehend its heft until you try shoving it off the sidestand: With a curb weight of 827 pounds, it takes a serious heave-ho to orient it to vertical, which is a tad easier thanks to the manageable 27.2-inch seat height. Grab the clutch, and the high effort required to pull the non-hydraulic actuation feels consistent with the bike's heavy metal theme. Once you've thunked into first gear and rolled into motion, the Glide starts to glide into motion with ease, dissipating much of the inertia from its large footprint and considerable mass. The batwing fairing incorporates an analog speedo, tach, fuel gauge, and voltmeter; unfortunately missing is an analog ambient temperature gauge, that retro throwback instrument that's all too easily replaced with a digital temperature readout (which this bike also lacks). While it's reassuring to see analog dials, we don't mind the LCD representation of gear position. However, gear positions are not indicated when the clutch is pulled, which is exactly when you'd want to know what gear you're in. At least a big green "N" illuminates when you're in neutral, helping avoid awkward lurches at stoplights.
Once at cruising speed, the Street Glide Special comes into its own. While big touring Harleys were once shaky and sloppy in corners, improvements over the years have led to improved handling thanks to the relatively modernized chassis. The mild steel tubular frame incorporates cast and forged junctions, while the two-piece swingarm links the rear wheel solidly to the body. Cornering still requires forethought and won't confuse this Harley with a sportbike, let alone siblings like the Road Glide which detach the fairing from the fork for lighter, more accurate steering. However, the most egregious aspects of the Street Glide chassis are now limited to a bit of light steering under hard acceleration at higher speeds.
Speaking of speed, Harley's Milwaukee-Eight 114 powerplant operates under the age-old (slightly) modernized formula, incorporating pushrods, four valves per cylinder, and hydraulic self-adjusting lifters along with electronic sequential port injection. Goose the throttle, and the 1,868cc V-twin lurches ahead with honeyed ease. Most of the grunt resides down low, below the 4,000 rpm range. Although there's still some momentum in the revs as the needle approaches redline, the official peak power of 95 hp occurs at a claimed 5,020 rpm, with 122 lb.-ft. of torque maxing out at an even lower 2,750 rpm. Never mind rev-happier models like the liquid-cooled Indian Challenger; you're on Harley time with the Street Glide Special.
Unlike some of its antecedents, however, the Anniversary's brakes are strong. A press of the automotive-style foot pedal can be enough to bring the cruiser to an easy halt at lower speeds via the rear brake, and the hand lever effectively scrubs speed off at highway velocities via the four-piston fronts.
Although this image dates back to the 2020 model year FLHXS, the 5.25-inch touchscreen and analog gauges remain the same for 2023. (Harley-Davidson/)
Long-distance rides reveal a surprising amount of protection from the shorty windscreen, making it easy to cruise at highway speeds for many miles. While my riding was a bit heavy-handed, Harley's EPA estimate of 43 mpg from the 6-gallon plus 1-gallon reserve fuel tank would equate to a theoretical range of 301 miles. The 25 watt-per-channel, two-speaker stereo is loud enough to overcome the inevitable blast of road noise with decent sound quality, though the multimedia interface through the touchscreen feels like a bit of time travel…not in a good way.
Whereas the screen would have been a prime opportunity for streamlined GPS and audio options, the system instead feels dated and clunky to use. A small grip-mounted joystick can be used to navigate the system, but it's easier to reach out with your left hand and negotiate the menus while riding. The small cubby to the right of the screen can stow and charge a cellphone, and a port in the fairing enables charging of accessories; at least Apple CarPlay and Android auto are available, though they do require three things: a WHIM (Wireless Headset Interface Module), an H-D wireless or wired headset paired, and the phone to be connected via the bike's USB port.
Two saddlebags shut with a satisfying chrome latch, offering a modest but better-than-nothing 2.5 cubic feet of storage volume. In typical Harley style, the bags are styled consistently with the rest of the motorcycle, becoming an unmistakable part of the bike's overall aesthetic experience.
The 2023 Harley-Davidson 120th Anniversary lineup, from left to right: Street Glide Special, Fat Boy, Road Glide Special, Heritage Classic, Ultra Limited. Not pictured is the Tri Glide Ultra. (Harley-Davidson/)
The Harley Street Glide Special Anniversary delivers The Motor Company's familiar touch points in a classic, premium finished package that doesn't stray very far from its OG origins. While it's easy to criticize the weak spots—the not-quite-there infotainment system, the cumbersome weight, the legacy bits and bobbles that feel anachronistic in 2023—this is nonetheless a potent expression of Harley DNA, lending this retro bagger unmistakable charisma. Sure, it's easy to call out a $2,900 paint scheme as a shallow money grab for an anniversary callout. But considering it took 120 years for Harley-Davidson to get here, let's cut The Motor Company some slack for a legacy and sense of identity most other brands aspire to.
2023 Harley-Davidson Street Glide Special Anniversary Technical Specifications and Price
| PRICE | $30,899 |
| --- | --- |
| MOTOR | 114ci (1,868cc), OHV, air-cooled, 4-stroke V-twin |
| BORE x STROKE | 102.0 x 114.3mm |
| COMPRESSION RATIO | 10.5:1 |
| FUEL DELIVERY | Electronic Sequential Port Fuel Injection |
| CLUTCH | Wet, 10-plate assist and slip; mechanically actuated |
| TRANSMISSION/FINAL DRIVE | 6-speed/belt |
| FRAME | Mild steel tubular |
| FRONT SUSPENSION | 49mm dual bending valve fork; 4.6 in. travel |
| REAR SUSPENSION | Hydraulic shock w/ hand adjustable damping; 2.15 in. travel |
| FRONT BRAKE | Dual 4-piston calipers, 300mm discs w/ ABS |
| REAR BRAKE | 4-piston, 300mm disc w/ ABS |
| WHEELS, FRONT/REAR | 19 in./18 in. |
| TIRES, FRONT/REAR | 130/60-19 / 180/55-18 |
| RAKE/TRAIL | 26.0°/6.8 in. |
| WHEELBASE | 64.0 in. |
| SEAT HEIGHT | 26.1 in. (laden), 27.2 in. (unladen) |
| FUEL CAPACITY | 6.0 gal. + 1.0 gal. reserve |
| CLAIMED CURB WEIGHT | 827 lb. |
The FLHTKANV's 114ci V-twin routes the 2-1-2 exhaust through tapered mufflers for Harley's signature sound. Blackout trim and selective chroming round out the visuals. (Harley-Davidson/)
Harley's 2023 Anniversary lineup on the road; look close, and you'll spot the Street Glide Special's batwing fairing and LED headlamp to the immediate right of the Anniversary edition Fat Boy in the lead. (Harley-Davidson/)
The batwing fairing is a key part of the Street Glide Special's visual signature, and delivers more wind protection than you might expect. (Harley-Davidson/)
An unladen seat height of 27.2 inches—which shows in this profile shot—makes the Street Glide Special Anniversary easier to manage at low speeds despite its considerable 827-pound curb weight. (Harley-Davidson/)