Affordable Dual Sport Motorcycles in 2022
Dual sport motorcycles get overlooked these days as more and more attention focuses on adventure bikes. But true dual sport machines offer some notable benefits that adventure bikes often can't match. Lighter weight, for instance, simpler construction, and more proficient off-road capability to name a few. These advantages mean a lot when you plan to do some serious time in the dirt. Another nice aspect of this segment is the variety of models at an affordable price. All five of the bikes we've selected are under $7,000 brand new. Plus, a number of them have been around long enough that used motorcycles are widely available at even better prices. Want more recommendations? Read our original Affordable Dual Sport Motorcycles article.
Honda's CRF300L Rally straddles the line between low-displacement adventure bike and dual sport, tending more toward the off-road side. (Honda/)
2021 Honda CRF300L Rally: $5,999
In terms of the dual sport essentials, the Honda CRF300L Rally is well-equipped. It's rocking a 21-inch front and 18-inch rear wheel setup with long-travel suspension providing 10.2 inches travel front and back. The 286cc single is designed to be low-maintenance and offer optimum low- and midrange performance in cold weather and at higher altitudes. The built-in skid plate provides a nice level of underbody protection, the slim seat makes it easy to maneuver in technical off-road situations, and the bodywork not only helps the bike sustain any beatings it might take, it also gives the machine a head-turning rally aesthetic. Honda has a more stripped-down version in the CRF300L for $750 less, but that extra money really ups the dual sport prowess of the platform, which is why we think the Rally version is the better option.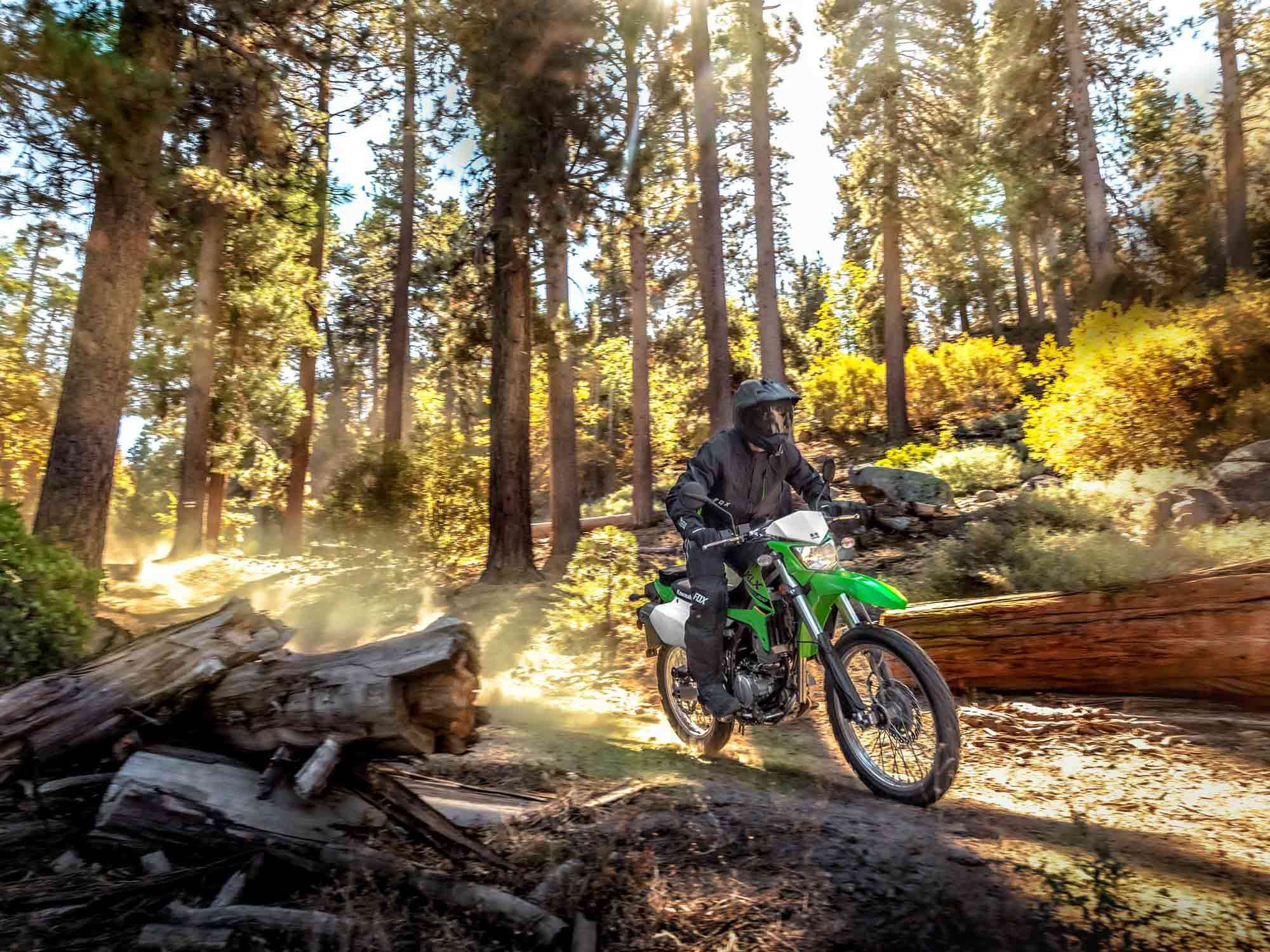 The KLX300 is a lightweight, affordable, and fun dual sport. (Kawasaki/)
2022 Kawasaki KLX300: $5,799–$5,999
Kawasaki's newest dual sport, the KLX300, is a direct competitor to the CRF300L. It comes with a slightly larger 292cc single that has been designed to be punchy in the low-end, capable on the road in the higher revs, and as free from vibration as possible. It also runs on 21-inch front and 18-inch rear wheels and features long-travel, adjustable suspension front and rear, with 10 inches available at the front and 9.1 inches at the back. The ergos and cockpit are ideal for off-road riding, and styling mimics the look of Kawasaki's line of KX machines. This one doesn't feature the same level of crash protection as the 300L Rally, but a few hundred dollars in aftermarket parts can solve that issue real quick.
The XT250 is a great beginner dual sport and a fun weekend trailbike. (Yamaha/)
2022 Yamaha XT250: $5,199
The most affordable, and most straightforward, machine on the list is Yamaha's XT250. This 249cc air-cooled single-powered bike is a great starter machine, a reliable commuter, and an entertaining trailbike. Seat height is an approachable 31.9 inches and the suspension setup provides 8.9 inches travel at the front and 7.1 inches at the rear. Ergos are neutral and comfortable, and the design of the bike ensures nimble, accurate handling even in tricky situations. As with the other bikes we've covered, the XT250 comes with a 21-inch front and 18-inch rear wheel setup. If serious off-road shenanigans are on your to-do list, you will want to fork out a bit extra for some aftermarket crash protection.
Kawasaki's updated KLR650 ABS adds some long-overdue improvements. (Kawasaki/)
2022 Kawasaki KLR650 ABS: $6,999
Step up in size and power with Kawasaki's venerable KLR650, which has long been a go-to bike for dual sport riders. For the 2022 model year, Kawasaki introduced some sweeping changes to modernize the platform, but even with those changes in place it remains a relatively simply engineered workhorse. The 652cc single got fuel injection as part of the update, and midrange torque was improved. The subframe and swingarm were updated and the rear brake improved. The windscreen, headlight, carrying capacity, and ergos were revised as well. The bike is quite a bit heavier than the previous three models listed, so isn't quite as nimble on tight trails, but it's more than capable in experienced hands. Other considerations that make this a compelling dual sport are its greater range (thanks to a 6.1-gallon fuel tank) and potential as a touring/adventure bike. The high exhaust, 21-inch front and 17-inch rear wheel configuration, and crash protection keep this bike firmly in the dual sport category, however.
For a simple machine with some oomph, the Honda XR650L stands out. (Honda/)
2021 Honda XR650L: $6,999
Honda's XR650L challenges the KLR650 in the midsize dual sport segment, and in many ways the XR now has more off-road potential than the Kawasaki. To start, it's a scant 360 pounds (scant when compared to the 460-pound curb weight of the KLR), and comes with a more off-road-aimed suspension package. The adjustable Showa cartridge fork offers 11.6 inches of travel while the Pro-Link Showa shock at the rear provides 11 inches. It remains carbureted, offers 2.8 gallons fuel capacity, has a 21-inch front and 18-inch rear wheel configuration, and the 644cc air-cooled single is widely known to be low-maintenance. The ergos and cockpit are decidedly more off-road than adventure (when compared to the KLR). Plus, the XLR650L has been a staple of Honda's dual sport line for some time, meaning a broad used market and plenty of aftermarket upgrades.